This video covers all of the following categories, and is designed to allow you to complete all the requirements for maintaining your bike to BMW specifications. It is designed for the R1200 series "Hexhead" motorcycles (Not including the R1200 cruisers), though it is centered around the R1200GS since that is what I have, and was available for filming.

*Note: Covered Motorcycle(s):
·
2004-2009 R1200GS

·
2006-2009 R1200GS Adventure

·
2005-2009 R1200RT

·
2005-2007 R1200ST

·
2007-2010 R1200R

Note: The DVD was designed around the R1200 series BMW from 04-06. It is still technically accurate for up to the 09 R1200GS and 2010 R1200RT/ST/R/S. The Brakes on the newer bikes bleed slightly differently, and the Final Drive fluid change is slightly different. You will likely be able to figure out the differences, but there are tutorials in the updates section of my site to cover these differences. There are also tutorials on removing the body panels on the R1200RT/R in the
Updates section.


1.Removing Gas Tank (R1200GS, others similar)
2.Changing the Oil
3.Replace the Transmission Fluid
4.Changing the Final Drive
5.Valve Adjustment
(See update in the Corrections section)

6.Air Filter Change
7.Replace Alternator Belt (Alternative process video here)
8.Brake Bleeding, servo-ABS system
9.Fuel Tank Install
10.Fault Code Read
11.Throttle Body Sync
12.Miscellaneous Checks

I have included the necessary tools, supplies and torque specifications to complete all the listed services. I have also added many helpful tips and notes to make this as simple as possible.

Consider this, the tool to remove and install the alternator belt is nearly $150, I teach you how to do it with no special tools, a savings of $125 on just one procedure! (Alternative method
here
)

A typical 6K service will run you around $300-350, depending on location. The brake bleed alone can run as high as $300.

What I did not include, since I felt they were self-explanatory, was how to check your oil, tires, and lights. I also did not include how to check spoke wheels since I did not have a spokes wheel bike available, they are available on the R1100/1150 DVD.

The DVD should assist those of you on the fence in deciding you CAN do these expensive services yourself, and save money for those all-important farkles, and gas for riding! It is also an excellent resource for those looking to see what the dealer does during a typical service.

The DVDs are available for $30 plus $4 shipping to the continental US, $6 to non-US shipping.

I will accept Paypal as this is my preferred method of payment. I will also accept money orders, and personal checks for US orders ONLY, and with a US bank only, see the sales buttons on the top of this page for ordering.

The DVD is available for shipping immediately. It is produced into a master pressed format like a store bought movie which should be viewable on most DVD formats (NTSC), as well as virtually any lap-top computer. Many top line DVD players in Europe also play this format, though it is the North American Standard. See this link
http://en.wikipedia.org/wiki/NTSC
for locations in which this DVD will definitely work. In some cases you may need to use the basic Windows or Mac DVD player on your computer or laptop.

Thanks you all for your support of this effort, and for getting the ball rolling! I hope it is worth the effort, and not only saves you money, but helps you to be more independent in doing your own work.
Notice:
There was a change in the need to bleed all the ABS controller fitting in a couple of BMW service bulletins.

Specifically in Bulletin # 34 002 06 (019) dated Apr 2006 Maintenance:

For maintenance work, the brake fluid replacement in the control circuits is now only to be carried out via the control circuit bleeding ports (see arrows in pictures). It is no longer required to replace the fluid via the bleeding ports of the metering cylinder and of the Integral circuit during routine brake fluid replacement.


Here is some information on how to build your own brake bleed Mini-Stan:

No need for the BMW cap. Order the following from McMaster-Carr (
www.mcmaster.com
) 4005T5 1 Each Quick-drain Clear Polymethylpentene Funnel, 8 Oz Capacity, 4-7/16"top Od, 7-3/4"o'all Height 9545K27 1 Pack Tapered Push-in Round Rubbber Plug, Through Hole, Size 2, 13/64" Hole Size $12.11 before shipping.

Drill the stopper out a little, stick the funnel in it, stick the stopper into the fill hole with a twisting motion like you are threading it in.

Also now available from:

http://www.beemerboneyard.com/abs3funnel.html
*Please see the Updates section for updates to the Video.
Tool Lists Download Link
Service Schedule Download Link
Torque Values Link
Caution: Although every effort was made to ensure the accuracy of the information contained in this DVD it was primarily designed to enhance your knowledge of the BMW R1200 "Hexhead" series motorcycle. As such, it is not meant to replace the maintenance manual or to supply complete information about each procedure covered. Any damage done to a motorcycle or personal injury resulting from the use of the DVD is solely the responsibility of the user and not the maker or seller of the DVD. Please use the DVD as a reference only. Performing motorcycle maintenance can be dangerous so please take the proper precautions when attempting to perform your own service work. If you do not have the proper tools or mechanical ability to do this type of work it is best left to the professionals at your BMW Service Center.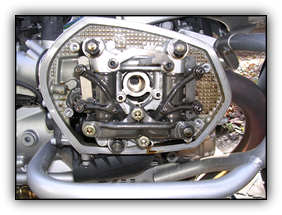 Motorcycle Maintenance and Repair Videos
JVB Productions

US Sale Non-US Sale
Click Here to Pay by Check

© 2016 JimVonBaden/JVB Productions

R1200 "Hexhead" 36K 2004-2009 Maintenance DVD:
Price $30 plus shipping DVD
$40 for the Instant Download.
If you are interested in a muti-DVD discount, click the above "DVD-Info-Sales" button, or here!
This video had a very positive review in Motorcycle Consumer News, September 2007: Link.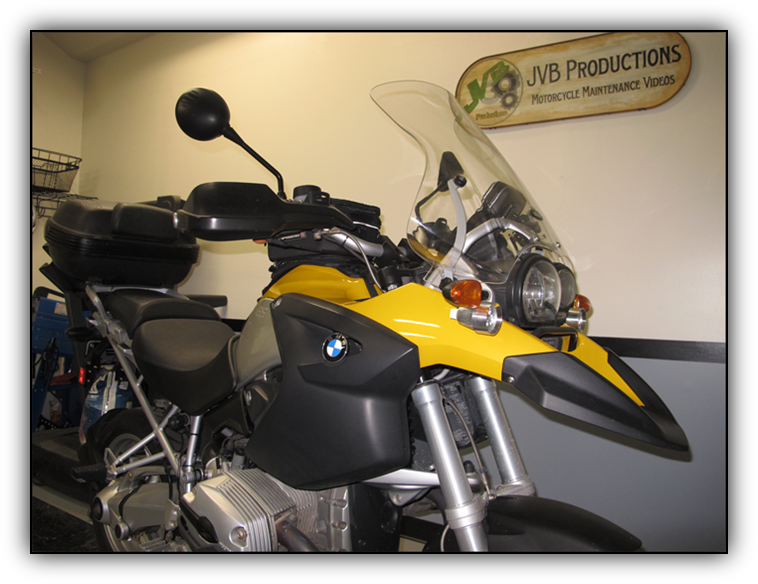 DVDs
DVDs
Click "Add to Cart" below for download, Paypal above for DVDs.